---

The RamJet~ a brief history
---
The Engine

---


Click for a 113.3K enlargment

The Pratt & Whitney J-60 is a single shaft, axial flow turbojet engine,
witha nine stage axial compressor, two piece barrel type cumbustor with
eight flame tubes with dual fuel nozzles, and a two stage turbine. The
engine is 70.5 inches long, 22 inches in diameter, and weighs 448 lbs.
This engine was never equipped with an afterburner but was engineered to
so that one may be fitted. The RamJet team constructed one from 316-L
stainless steel and used afterburner fuel nozzles and flame holder from
a General Electric J-79 turbojet. ( Thats right GE does build Jet
engines along with Refrigerators and light bulbs. ) The engine pictured
here is the actual engine in the RamJet.


The Aircraft

---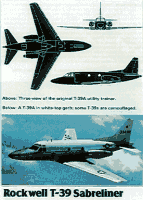 Click for a 207K enlargment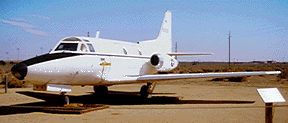 The Engine used in the RamJet came from this predecessor,
the North American Aviation T-39 Sabreliner.


The Art Work

---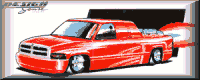 Click for a 159.3K enlargment

Every concept must have direction. The RamJet started with a
Design Sense artist's rendition


The Chassis

---

Click for a 120.9K enlargment

The engine was placed in the frame so that the intake came through the
firewall to draw in air and the tailpipe just stuck through the
tailgate. Here we are trying to find the optimum location.


The Body Panels

---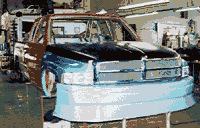 Click for a 111.3K enlargment

Once we have finished the core chassis, we fit all the body panels together to
make sure that all our calculations were correct. We were lucky
and didn't have to change a thing.


The Mock Up

---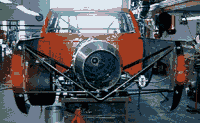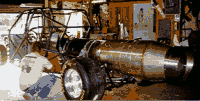 Click for a 99.5K or a 82.1K enlargment

Once we have finished the core chassis, we fit all the body panels together to
make sure that all our calculations were correct. We were lucky
and didn't have to change a thing.


The Final Fit-up

---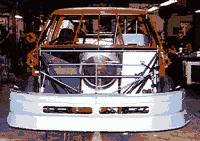 Click for a 114.1K enlargement

With the tin work back from the powder coat it is time for final fit up!! From here the body will go to paint and the next stop will be The Florida Dodge Dealers 400 in Homestead Florida!!


The Fruits Of Our Labor

---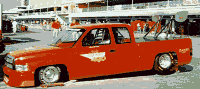 Click for a 154.8K enlargment


Well we made it to Homestead on schedule for our big debut in Florida. The Dodge
dealers paid us to come to this facility to WOW!! the crowd as the
world's most powerful sports truck will come out of the bottom of turn
four with the afterburner lit and blast down the main straightaway
shutting off just before turn one and coasting to a stop somewhere
around turn two. In this picture the RamJet is raised in
the rear to attach the parachutes. The parachutes are 15 foot cross
type design and have 46 feet of shroud line. One chute is all that is
needed to stop the RamJet, but you should always have an emergency
reserve chute.




Thermo Home Page