Today's Shots From
Robo Tour 96
7-14-96

Hit the reload button on your browser if you have been here before.
You should be using Netscape 2.0 or better to view this.
If you are a Compuserve user, you may have to clear your disk cache to reload new images.
To clear your cashe in Netscape, go to "Options", "Network preferences", "Clear Disk and Memory","OK"

TODAYS MILEAGE: 180
DESTINATION: Vernon NY
MILEAGE TO DESTINATION: 0


REASON: Rain, mud, set-up, show, pack-up.


As I am on the East Coast, somedays are better than others for FTP 'ing up new photos. And as far as my server, well I'm begining to loose patience, and I am looking for a new server with 800 access.... If anyone out there knows of a provider with 800 access and is unlimited time, please send
| Me E-Mail HERE |
Thank you for your patience...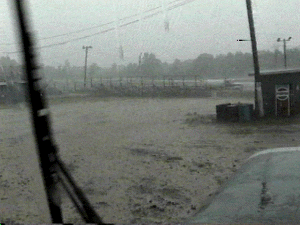 Pouring Rain


We knew we could work on a dirt track, but what about MUD?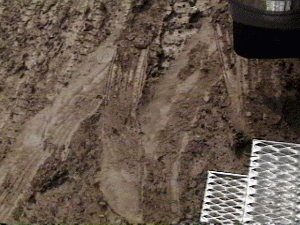 UH OH


I hope you can see this shot, it is difficult to see on my laptop. Note the tractors tire tracks in the mud. I was done running under my own power.



Getting taller


This is one time I was glad to be the truck driver, instead of the chain hooker upper. This is one of the owners of Robosaurus, Gary Cerveny, or at the very least a great shot of his feet.



A little help, please.


After a little slipping and slidding, I was back "on track", with the help of a scraper and a big chain.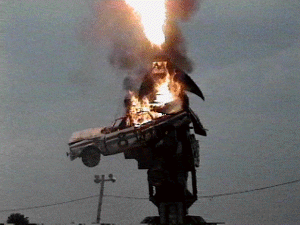 Looser


I guess if you loose around this track, you really loose as shown by this race car.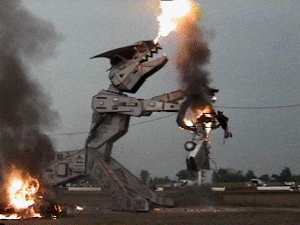 Burn it up.


This is one hot race car, on the ground. With another one in the oven.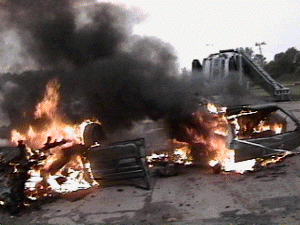 Backwash


Robo backwash...with Robo and a sunset in the background. A beautiful end to a great show.




If you want to see where I'm going, check outSHOW SCHEDULE







| Resume | | Cool Captures | | Robosaurus | | E-Mail |



<!copyright 1996 Michael Ryder All Rights Reserved>