Robosaurus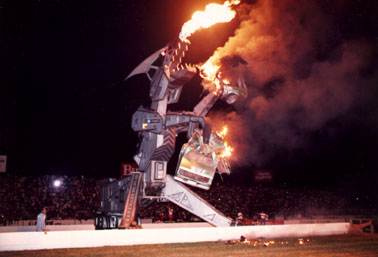 A recent performance by Robosaurus (tm)
Raceway Park Englishtown, NJ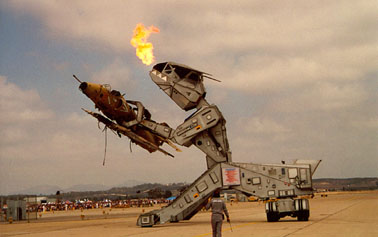 A recent performance by Robosaurus (tm)
Miramar Airshow, CA

---
Click here for a cool animated gif of Robo tearing a car in half.
---
Fun Robo Facts...


Michael Ryder was the Robosaurus Pilot from 1-4-90 to 12-31-96

Robosaurus is the worlds largest entertainment robot

Robo is also a street legal trailer (transformer) weighing in at 62,000 lbs

It has over 300,000 highway miles logged.

It took 8 men 20 months to construct, many double shifts.

2000 lbs of welding rod was used in the structural building of Robo

There are over 2000 feet of Parker hydraulic hose, being used as his veins.

Robo's feet are 150 psi 15 ply Goodyear mining tires.
The custom sheet metal, repairs and upgrades are provided by Sessa Mfg.

Robosaurus construction costs exceeded 2.1 Million U.S. Dollars.

How Robosaurus Really works

Robosaurus SHOW SCHEDULE

Robo has a site click here for merchandise information.

Resume
Cool Captures
Robosaurus
E-Mail
Todays Photo's