Today's Shots From
Robo Tour 96
7-17-96

Hit the reload button on your browser if you have been here before.
You should be using Netscape 2.0 or better to view this.
If you are a Compuserve user, you may have to clear your disk cache to reload new images.
To clear your cashe in Netscape, go to "Options", "Network preferences", "Clear Disk and Memory","OK"

TODAYS MILEAGE: 280
DESTINATION: Muskegon MI
MILEAGE TO DESTINATION: 0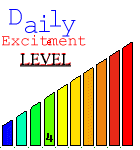 REASON: Finished drive, had dinner with French Connection Team


As I am on the East Coast, somedays are better than others for FTP 'ing up new photos. And as far as my server, well I'm begining to loose patience, and I am looking for a new server with 800 access.... If anyone out there knows of a provider with 800 access with unlimited time and megs for a page, please send
| Me E-Mail HERE |
Thank you for your patience...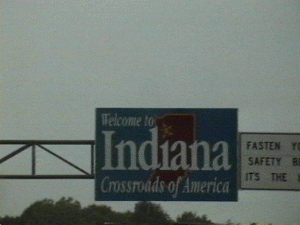 Indy


Crossing the borders of Ohio and Indiana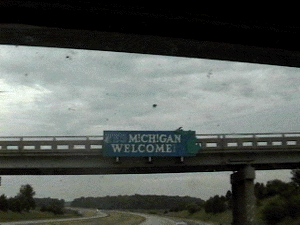 Michigan


Another way to waste bandwidth...Crossing border of Indiana and Michigan



Robo Proctolygist


Here is robo getting his butt hosed off, ready to be seen in public.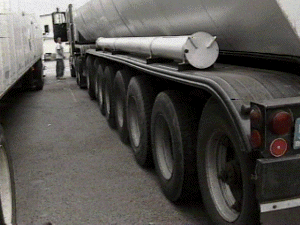 Check this out.


Well, I have been up North before, but for those of you who have never see this... 11 axels, 38 tires and able to legal 154,000 lbs. How would you like to pay that tire bill @ about $400.00 US each.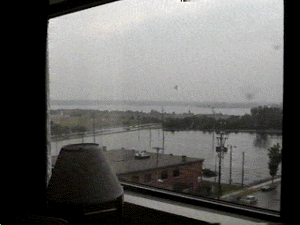 My View


This is the view of Lake Michigan from my 7th floor Holiday Inn room. Well we made it to another show. If you have ever seen a Star Trek book, there are photos of some of the stickers used on the Enterprise. This one applies, "No matter where you go, there you are".




If you want to see where I'm going, check outSHOW SCHEDULE





| Resume | | Cool Captures | | Robosaurus | | E-Mail |



<!copyright 1996 Michael Ryder All Rights Reserved>