Today's Shots From
Robo Tour 96
6-22-96

Hit the reload button on your browser if you have been here before.
You should be using Netscape 2.0 or better to view this.
If you are a Compuserve user, you may have to clear your disk cache to reload new images.
To clear your cashe in Netscape, go to "Options", "Network preferences", "Clear Disk and Memory","OK"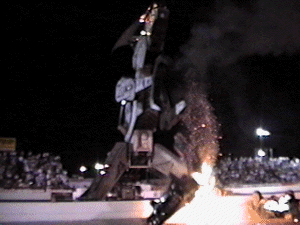 Firebird, Pheonix AZ


Our first show of the tour...went well. We were able to rip this puppy in half, and drop the flamming morseles to the track.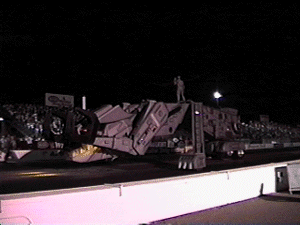 John Joins In


"Here I come to save the day"...John Rickwald. The track's starting lights prove to be a little low, so John, in mid show, climbs robo's leg and lifted up the cable and then slid back down to the ground.



If you want to see where I'm going, check outSHOW SCHEDULE







| Resume | | Cool Captures | | Robosaurus | | E-Mail | | Todays Photo's |


<!copyright 1996 Michael Ryder All Rights Reserved>